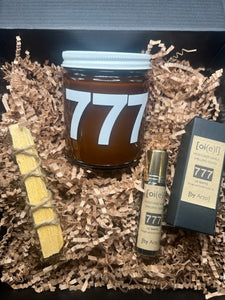 777 LE SANTO KARMA CLEANSE BOX SET
Regular price
$68.00
$0.00
Unit price
per
Tax included.
Angel number 777 represents spiritual awakening, divine intervention and in some cases, luck. The feeling of Fullness & completeness is on its way to you. When this number keeps showing up in your life, it is thought to mean that you & your journey are headed in the right direction. Angel number 777 is one of mysticism and meditation. It also is a great indication of some change and abundance coming into your life. This could also mean financial gain!
 This mild woodsy but inhibited scent is notes of bergamot, incense, gaiac wood, mandarin, vanilla, muscenone, pipol and hedione. It belongs to the woody fragrance family, and it smells subtle, sweet, and woody with hints of mint, citrus.
Palo Santo smoke freshens living spaces and clears negative energies. It creates a feeling of transcendental calm.Similar to Sage and Cedar, Palo Santo is most widely used for spiritual purification and energy (home) cleansing. Once the wood sticks are burned, the smoke is believed to clear negative energy and restore tranquility and calm emotions. So we created a scent that gives you all this goodness.

THIS BOX SET INCLUDES:
8 oz 777 LE SANTO SOY CANDLE
10ml 777 LE SANTO ROLL ON PARFUM OIL
PALO SANTO STICK
---
Share this Product
---