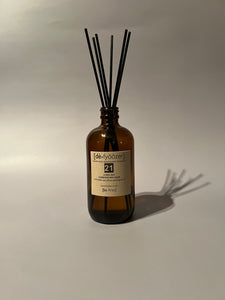 21 A NEW DAY REED DIFFUSER
Regular price
$56.00
$0.00
Unit price
per
Tax included.
All Natural bougie parfumee non-toxic reed diffuser absorbs scented liquid from the container and releases fragrance into the surrounding air. 
WHEN YOU SEE
ANGEL NUMBER 21
, IT MEANS THAT IT IS TIME FOR NEW BEGINNINGS AND CHANGES. DON'T BE AFRAID BECAUSE THESE CHANGES WILL BRING HARMONY & BALANCE IN YOUR LIFE.
ANGEL NUMBER 21
IS ALL ABOUT UNITY, FULFILLMENT, AND HAPPINESS. WHEN YOU SEE
ANGEL NUMBER 21
APPEAR, IT IS AN AUSPICIOUS SIGN FROM YOUR ANGELS THAT YOU ARE ON THE VERGE OF MANIFESTING YOUR DESIRES ON A LARGE SCALE & TO RID YOURSELF OF OLD BELIEFS & LEAVE THE PAST BEHIND YOU FOR THIS NEW PHASE IN YOUR LIFE. REPEAT AFTER ME "I WELCOME NEW BEGINNINGS, AS I RELEASE THE PAST ENDINGS."
This invigorating all natural orange citrus clementine fragrance enveloped in an herbal bouquet. Top notes of citrus and sweet basil give way to a prominent orange peel note. Mint leaves and chamomile combine with agave nectar and tomato leaf in the base. Orange and lemon essential oils keeps this all natural bougie parfumee fragrance bright and juicy, while mint and eucalyptus essential oils reinforce the green, herbaceous accord. This fragrance oil is infused with natural essential oils, including orange, lemon, mint, spearmint, and eucalyptus.
8 oz/non-toxic base/all natural fragrance oil
---
Share this Product
---