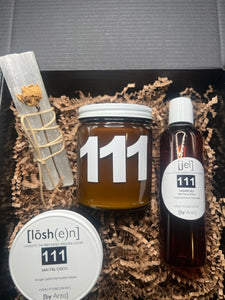 111 SAN-TAL COCO SPIRITUAL AWAKENING BOX SET
Regular price
$88.00
$0.00
Unit price
per
Tax included.
OUR SPIRITUAL AWAKENINGS BOX SET INCLUDES
-8 oz 111 SAN-TAL COCO SOY CANDLE
-4 oz 111 SAN-TAL COCO BUTTER LOTION
-4 oz 111 SAN-TAL COCO SHOWER GEL
Angel number 111
 is thought to 
symbolize new beginnings or a new cycle especially in love. The angel number 111 is also a sign of "angelic guidance" and the need for healing. The angel number 111 signifies manifestation and prosperity. This number's main symbolism is manifesting thoughts into reality. It also symbolizes awareness, uniqueness, motivation and independence. 
Angel Number 111 is the number of change, and this means that new opportunities for growth are coming your way. 
 A new additon to our San-tal category. If you love 1 & 11 you will love 111. This scent is the essence of a luxe tropical or spa escape. While many coconut fragrances are on the sweet side, this scent instead leans on woody notes of sandalwood, cedar, and amyris. If you love coconut or hints of vanilla you will love this.
---
Share this Product
---